The most interesting and funny Lithuanian Traditions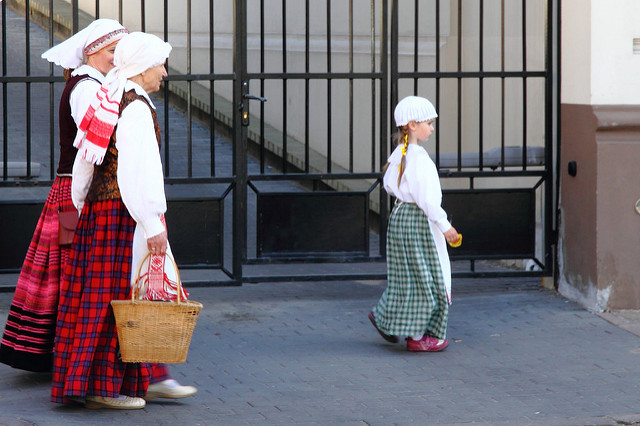 As a country with a long history, pagan roots and a very rich folklore, Lithuania has many traditions that are still practiced today. Whether they are about the change of seasons, the celebration of nature, or Christmas and Easter superstitions, what is for sure is that Lithuanians know how to have a good time while respecting their ancient ways. Get to know some of the best and most interesting Lithuanian traditions, so you can practice them during your journey as a real Lithuanian!
Shrove Tuesday
The so-called Shrove Tuesday is the first Tuesday that ends the winter and welcomes a new spring time. To celebrate the arrival of the good weather, Lithuanian people put on traditional masks and costumes and go around the neighborhood visiting each other. In each house they can enjoy a few drinks or some nice food. When the evening arrives, the tradition joins people together around a doll of an old maid called More, a female symbol that represents the clash between winter and spring. The old maid More can then face three different fates: sometimes she gets burnt, sometimes she is drowned in the water, and the third option is to put her on a sled and send her down the hill until she crashes. With the end of the old maid, the winter is officially over and spring can arrive.
Rasos & Joninas Day
This tradition is celebrated on Midsummer. During the morning, young women have to wash their faces only with fresh dew. Later, in the evening, bonfires are organized around the cities and in the countryside, and people make wishes and put spell bags in the water to make their dreams come true. Also, young couples go to the countryside to search for fern blossoms. The tricky part is that ferns do not have blossoms, so it is just a nice excuse for couples to go together in the forest and have a romantic walk.
Christmas Eve
Lithuania celebrates the Christmas Eve tradition in a similar way to other European countries, but there are few singularities that make this night a magical one for Lithuanians.
-The tradition says that an empty plate should be left on the dinner table for family members or friends that have been lost during the past year. Also, the leftovers of the dinner are left outside to symbolically "feed" these lost significant others.
-On Christmas Eve, as it is a magic night, water turns to wine and the animals can speak openly between each other as everyone is busy having dinner and no one is really listening to them, so is a convenient timing for them to reveal their secrets to each other.
-Before the big Christmas dinner, the host will put a few pieces of straw, some of them longer than others, under the tablecloth. When the dinner is over, is time to play the traditional game. Each guest in the dinner must take one of the straws without knowing its total length. Once is out, the length of the straw represents the length of your life. A nice Christmas present for those lucky enough to pick a long straw…maybe not so much for those who happen to get a short one!
– Another tradition during Christmas Eve is for girls to get to know the name of their future spouse. Before going to sleep, the girl must write down in different little pieces of paper every name that comes to her mind, as many names as possible. Then she should put these pieces of paper into her pillow case before she fells sleep on it. In the morning, she should put her hand inside the pillow case and take the very first paper that she finds. The name written on it will be, according to the tradition, the name of the person she will marry.

Easter Granny
During Easter celebrations, Lithuanians don't use the images of cute and fuzzy bunnies hiding their eggs all around. Instead, they have the Easter Granny. This endearing old lady known as Velyku Bobute is the one that brings the Easter eggs to the children, although it is true that she has some bunnies that act as her assistants and help to decorate the eggs and load her cart before she goes to deliver them. Easter is a very important time for families in Lithuania, where everybody gets together to share large amounts of delicious food and decorate Easter eggs with natural dies such as boiled red onion skins, which are then scratched to make a design in white.
Sounds like fun? If you want to see and live these fun traditions first hand, while discovering Lithuania and their neighbors Latvia, Estonia and Poland, join to our snow filled adventure across the Baltic countries and have a unique winter break as you never had before in the amazing Baltic Run!
Liked this story? Are you getting that itch to travel and go on an adventure? Then join us on the next
Baltic Run
. Find a team of like-minded crazies and we'll see you at the starting line. If you want to join us in the virtual world then drop us a like on
Facebook
or follow us on
Twitter
to keep up with our latest antics.