5 reasons why you should visit Krakow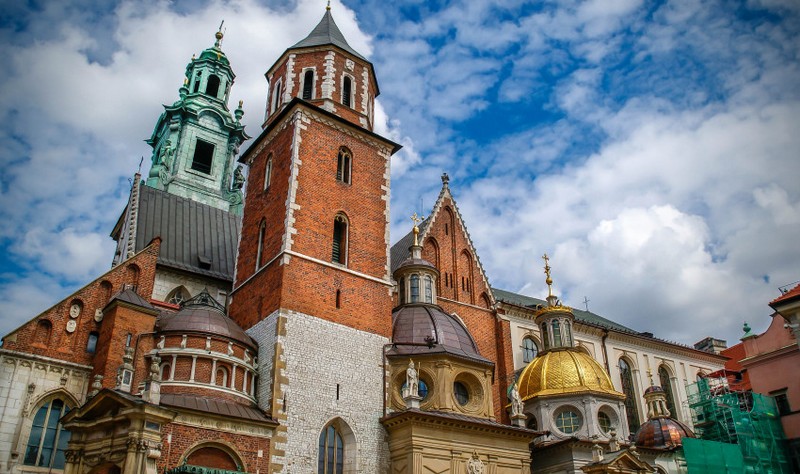 Krakow- this hugely popular city in the south of Poland is the starting point of the Baltic Run. But what makes Krakow so special? This historical city has many things that attract thousands of tourists every year: its beauty and its fun atmosphere will not leave you indifferent!
The City
Krakow is an amazingly beautiful city with great monuments and sights all around. It is inscribed in the UNESCO list of World Heritage Cities. It has been an important cultural spot of Poland for centuries, with an old university that dates back to the year 1364, and many architectural monuments, museums, churches and art treasures. The Old Town is a lovely, fairytale-like place to walk around, or shop in the Christmas markets if you go during the winter. The impressive Krakow Castle stands on a hill watching over the city, the bell tower in market square sounds like the song St Mary's Trumpet Call every hour, and dragons of different sizes can be found all around as they are the symbol of the city. The main square of Krakow is the biggest medieval town square of Europe, and in its middle you will find lots of market stalls (selling all kind of souvenirs, local clothes, food and jewelry), as well as the tower of the gothic St Mary Basilica.
Entertainment
If there is something that Krakow does not lack of, that is entertainment. The Main Market Square has the highest number of pubs per square kilometer in the whole world! The offer of pubs, restaurants and music clubs is one of the best of Europe, and it includes places for absolutely every taste: from alternative techno and DJ sets to classical music in concert halls, passing through jazz, hip hop, rock, or any other musical style you are thinking about: for sure, there is a place in Krakow for it. It is also impressive due to its offer of festivals and concerts of international famous artists.  Krakow is a city full of cultural events that are scheduled in a regular basis, so you can always find something new to do no matter what day of the year it is. If this entire entertainment offer wasn't good enough, Krakow is also a cheap city compared to the average European countries, so it's not likely your budget will stop you from having a lot of fun!
Food
If you go to Krakow, you shouldn't forget to ask one of its gastronomical specialties: the Pierogi. The Pierogi is a kind of boiled dumpling made of dough filled with a sweet or salty mixture. There are different kinds of Pierogi depending of the filling. The salty ones are served with fried onions and a dip made of sour cream. Also it is recommendable to try a traditional Polish breakfast. It starts with buttery scrambled eggs, followed by a basket of different kind of breads with more butter spread on them, and, finally, you will end up with a big set of samples of meat and cheese. It is exactly what you need to get to fill yourself with energy and start exploring the city. Of course, polish vodka is another thing you need to try before leaving Krakow or Poland in general.  Almost every kind and flavor of Vodka can be found in Krakow's pubs. Some examples are the Wisniowka (cherry vodka) or the Krupnik, honey vodka that is served hot with spices and lemon.

History
Krakow happened to caught part of the worst atrocities of the World War II. There are plenty of elements of the city that remember the shocking effects that the war had in the people and the country. Some examples inside the city are the Schindler's Factory Museum, the old ghetto of the Jewish quarter, and what is left of Krakow's old city wall. However, the most terrifying example is the concentration camp of Auschwitz, just a few kilometers away from Krakow. Today, it can be visited and it has been transformed into a museum. Walking through it is a really sad experience, but important to remember and learn from recent history.
Surroundings
There are plenty of great destinations that are easily reached in a day trip from Krakow. One example is Wieliczka, a salt mine that was working since the 13th century. What makes this salt mine so special is the cathedral, chapels, and statues that were carved entirely out of salt by the miners. Another nice day trip from Krakow is the Ojcowski National Park, which contains such attractions as Jurassic rocks and valleys. Also appealing for nature lovers, the Jura region is a great place for practicing climbing and hiking.
As you can see, Krakow is a wonderful place to spend some days before starting the biggest adventure of all: driving to the wild north across the Baltic Countries to the finish line up in Tallinn, Estonia!
Liked this story? Are you getting that itch to travel and go on an adventure? Then join us on the next
Baltic Run
. Find a team of like-minded crazies and we'll see you at the starting line. If you want to join us in the virtual world then drop us a like on
Facebook
or follow us on
Twitter
to keep up with our latest antics.