5 Reasons Why You Should Visit Riga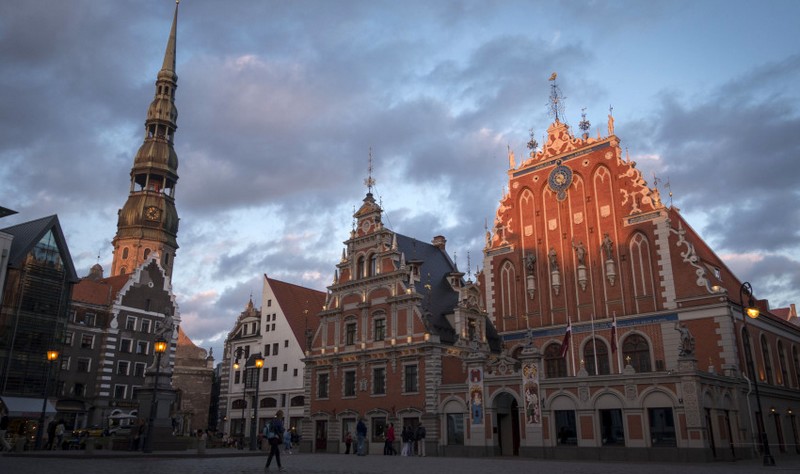 Riga. Photo by Bryan Ledgard.
Riga, capital and largest city of Latvia, is often underrated by travelers when searching for a new destination. However, this perception couldn't be more wrong. Riga is not only a European cultural capital, but a beautiful city to visit, full of lovely corners, awesome architecture, delicious food and interesting people with many stories to share. So, to definitely convince you to start packing your bags, here are the five main reasons why you should visit Riga:
The Art Nouveau Architecture
The streets of Riga are a free museum of the architecture style Art Nouveau. Over a third of the buildings that can be found in Riga are examples of this style, inspired by natural forms and structures. Curved lines, color, designs of plants and nature elements are typical in this kind of buildings. There are so many of them in the Latvian capital because when the Art Nouveau style was at its zenith as the fashion style of Europe, back between the end of the 19th century and the beginning of the 20th century, Riga's economy was going through an outstanding growth, which allowed the city to invest in the construction of several buildings.  One of the most prolific architects of the time in Riga was no other than Mikhail Eisenstein,father of the legendary Russian filmmaker Sergei Eisenstein  (director of masterpieces like Battleship Potemkin).  Some examples of these buildings can be found in the streets of Alberta Iela, Blaumana or Elizabetes.
It's Cheap!
Compared to the European standards, Riga has very low prices. Your time there won't be costing you a fortune, which will allow you to visit and do much more things that maybe you couldn't afford in another destination. Hostels and hotels can cost nearly a quarter than what you would be paying in near Scandinavia and even major tourist attractions are very easy to afford.
Delicious Food
Latvian food is often defined as simple cooking with heavy presence of meat and some Soviet influence, but there is a wide range of different ingredients.  Pork is the most used meat in the Latvian cuisine, but also game like deer, rabbit, or wild boar play a big role. As country next to the ocean, fish is also a protagonist. At the Central Market of Riga you will discover a wide range of smoked fishes and sea products to buy. You will also find tons of milk products such as cheeses and butter, as Latvia is one of the greatest producers of milk of the world! Finally, you can accompany your local dishes with one or two pieces of bread – it will be hard to choose, as Latvians produce a lot of different varieties of bread: heavy, salty, sweet, flavored…And don't forget to top it up with the national special Latvian liquor: the dangerous Riga Black Balsam!
Museums for Every Taste
Riga is a museum itself, but it is also the home of many interesting museums from a wide range of topics. The Latvian Ethnographic Open Air Museum is one of the most famous and the oldest ethnographic museum of Europe. This museum of 100 hectares recreates the ancient way of life in a very realistic and careful way. More than ninety authentic horses, farmsteads, wooden churches, villages of fishermen and other historical structures have been brought to the museum from different Latvian regions.  The Riga Motor Museum is also a good choice for an interesting tour around the impressive collection of motorcycles, limousines, and cars brought straight from the Kremlin garage. This was the only museum of cars on the territory of the former URSS, and nowadays is included in the list of best technical museums of the world. Finally, an essential museum in Riga is the Latvian War Museum. Latvia has been in the middle of several European wars, which fills the museum with collections of weapons, uniforms, documents, photographs, newspapers, maps, leaflets, awards, personal effects and more. A must see for history fans.


None of those seemed interesting enough? Well, the offer of museums in Riga doesn't end here, so you would have much more to choose: Museum of Photography, of Anatomy, of Occupation, of Aviation, of Jews, Railways, Art or even a museum dedicated exclusively to hats.
European Culture Capital Since 2014
In 2014, Riga was declared the Cultural Capital of Europe. The city celebrated this with around 200 cultural projects and major events, such as operas, exhibitions and festivals. Although this title is awarded for just one year, its influence and the reasons why Riga was chosen two years ago are still obvious all around the city. Culture is protected and fostered with programs that enhance cultural history, contemporary arts, and local festivals that have already become one of the biggest celebrations of the summer solstice in Europe.
Can't wait to walk through the streets of Riga and discover these and much more by yourself? You can always join to the next Baltic Run and have an adventure hard to forget, not only in Riga, but through the whole Baltic region!
Liked this story? Are you getting that itch to travel and go on an adventure? Then join us on the next
Baltic Run
. Find a team of like-minded crazies and we'll see you at the starting line. If you want to join us in the virtual world then drop us a like on
Facebook
or follow us on
Twitter
to keep up with our latest antics.