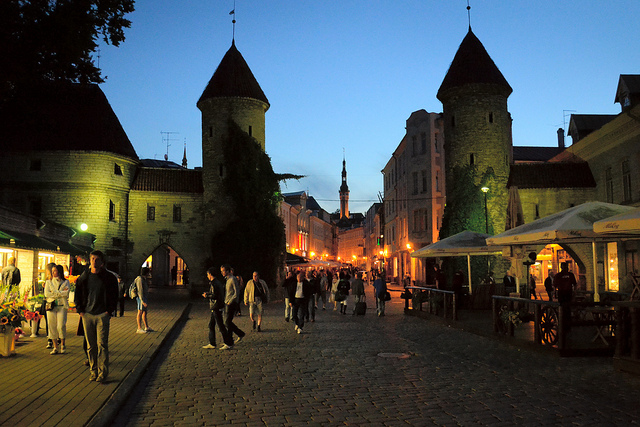 You have finished the Baltic Run and reached the final destination Tallinn, capital of Estonia. But after so many adventures and fun on the way up there, you are not ready to go home again so soon. No problem! There are many interesting and original things you can do in Tallinn, besides the classic touristic walk.  Here are some cool things to do in Tallinn!

Walk Through the Little Streets of Old Tallinn
One of the most charming features of the old city of Tallinn are the narrow, little streets that make the center like a small labyrinth. They have a unique medieval atmosphere, and, on the main square of the Old Town, you can find popular street markets with different themes that vary depending on the time of the year. Christmas and medieval are common themes, with all the people working at the stands dressed with traditional Estonian medieval costumes.
Try Estonian Food in a Unique Atmosphere
Again, the medieval atmosphere is highly appreciated as part of the tourist attractions of Tallinn. There are many restaurants that take advantage of the city's medieval atmosphere to create a fun and historical experience for their customers. In these restaurants, you can find medieval specialties in a setting that will throw you right back into the 12th century: candles instead of electric light, waiters dressed in medieval clothes…even the food takes you back in time! Expect heavy meat dishes with some side vegetables. If you want to risk a bit more, you can order Estonian classics such as cottage cheese, fermented fish, liver pate, rye bread, braised meat in meaty sauces, roasted vegetables and lots of potatoes accompanying basically everything.
Take a Taste of Pelmeenid
Back to the present time, it is not necessary to be in a medieval atmosphere to discover the Estonian cuisine. This classic dish is one that you should try while you stay in Tallinn: you will not regret it. It is basically a dumpling that was originated in Russia, but that is loved by Estonians. The homemade dumplings are served with three different sauces you can choose from or mix. Your taste, your choice! You can enjoy a good Pelmeenid in the restaurants of the Market Square while you enjoy the nice atmosphere and the sight of the people shopping around the market stands.

Learn Some Soviet History
If you like to know about historical events just in the place where they happened, there is a lot of interesting places where you can learn about the Soviet occupation of the Baltics in Tallinn. Make sure to visit the Museum of Occupations, the Ex KGB headquarters, and the Soviet monuments and memorials that you can find spread around the city in the form of parks, statues and sculptures. One of the largest memorials is Linnahall, a former concert and sports venue situated on the harbor. You can even get imprisoned in the former Patarei Prison and try the experience of living like a Soviet prisoner.  
Enjoy the Local Nightlife
If you thought the cold weather would keep people in their houses after nightfall, you were most certainly wrong! Tallinn's compact town center attracts both locals and backpacking visitors. You will find them mixed in the tons of bars and pubs of the city center, and in the many other late night venues. Some examples are: the epic bar crawl of Tallinn, which will take you across many pubs and bars along with other fun loving foreigners; the Depeche Mode Bar, a bar that basically plays only music from this one band, ideal for hardcore fans; or the mythical Labor Bar, a funny place where you can drink shots from laboratory tubes. There are options for every taste: from dodgy cellar bars to concert venues, and from high decibels and lots of laser lights to classy, smooth jazz lounges. You choose!
Already planning your journey to Tallinn? Hold on and better join the Baltic Run, an amazing adventure through the Baltic countries where you will live a once in a lifetime adventure driving from Krakow across incredible places of Lithuania, Latvia and Estonia before reaching the finish line: Tallinn!
Liked this story? Are you getting that itch to travel and go on an adventure? Then join us on the next
Baltic Run
. Find a team of like-minded crazies and we'll see you at the starting line. If you want to join us in the virtual world then drop us a like on
Facebook
or follow us on
Twitter
to keep up with our latest antics.