Hidden gems of Latvia: Cinevilla Movie Studio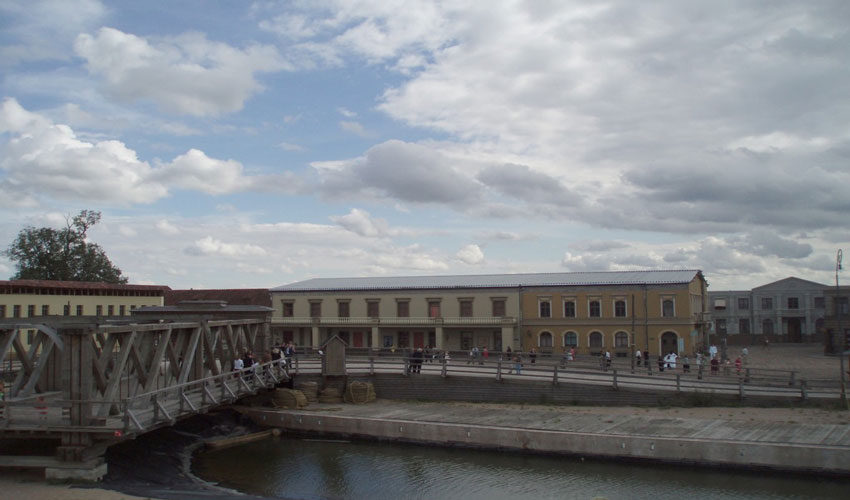 As you rebound from your spell in the middle ages, your second time travel adventure awaits you on your way: here in Cinevilla, you have the chance to spend the night in a town from 1920s Latvia.
Photo by wikimedia commons
Sounds cool. What is this one about?
Cinevilla is not a real settlemet, but could easily be mistaken for one; it was purpose-built in 2004 as the set for Defenders of Riga, the most expensive Latvian film ever made. It's a strange mix of and Hollywood-esque fantasy world and historic recreation and is sometimes also referred to a "Latvian Hollywood". The original "town" is a seamlessly put-together assortment of World War One era building facades, three replica bridges over "Daugava river" (a grassland in fact), cobbled streets and old trains. Everything was built to film Defenders (which came out in 2007). It remains the only movie studio backlot in the three States.
So they've pulled out all the stops here.
Looks that way. The complex sprawls and stretches over 370 acres in total, and has all the regular features of early 20th century Latvia: a city closely resembling Riga, then a small town, and some typical Latvian farmland. The ghost town movie set spared no expense, it is absolutely perfect, down to every last detail. There's even a man-made river here, complete with a steamship replica evoking turn-of-the century Riga, and three bridges crossing it, replicas of the Stone, the Lübeck and the Pontoon bridges.
Has Cinevilla been in use as a set ever since 2004?
It has. But after filming ended, the area opened as a sort of laid-back theme park with a cafe, temporary art exhibits, and various other forms of pre-ordered entertainment among the make-believe buildings. So now in between films being made on the cobbled streets of Cinevilla, civilians are invited to wander the town, entertain themselves and even spend the night. In the summer, Cinevilla has enough room for 46 visitors in 12 cabins for one night for the full turn-of-the century Riga experience. You can have a leisurely tour of the set area, and while some time away at the on-site, fully functional Latvian pub and/or watch bread being baked at the local bakery, just like in the old days.


You mentioned the "original" town. Has anything changed since?
Yup, Cinevilla is continuously being expanded as props for new Latvian films are being added to it. But now, more often than not these "props" are in fact real buildings, built with the aim to be reused as hotels, wedding halls, function rooms, and so on.
Current additions to Cinevilla include a fleet of old Soviet cars on standby (which may be brought in as props should a director need them), a church like the ones in rural Latvian villages, and a farmstead.
This sounds too good to miss. Whereabouts is it again?
You'll find it about 20 km west of Jūrmala, and their website here. Wouldn't make a bad additon to the Baltic Run either, if you'd like to come with us this December.
About the Author