Tallinn at Christmas Time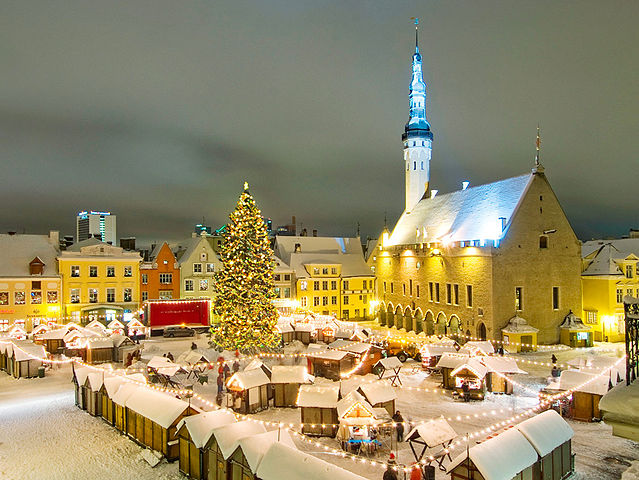 The most wonderful time of the year in Tallinn.
The Baltic Run passes through many picturesque towns on our way from Poland to Estonia, all the better for fresh snow, Christmas markets, and lashings of mulled wine. However, for a place to really feel the seasonal magic, it's hard to the final stop on our trip: Tallinn.
Tallinn at Christmas Time
The most obvious reasons that we love visiting Tallinn at Christmas time are the same as those that for which we love visiting Tallinn at any time: welcoming people, a gorgeous position on the Baltic Sea, and its historic Old Town. Not to mention the fact that it's among the world's least polluted cities and is one of Lonely Planet's best value destinations! However, we have to admit the famous Christmas market in Tallinn's Town Hall Square makes visiting the city an even more attractive prospect in wintertime.
Tallinn's Christmas Tree
At the center of Tallinn's winter market is an impressive Christmas tree, representing a tradition of more than 500 years. It is said that the first Christmas tree was brought to the city in 1441, which, if true, would make it the first European city to have such a display. In any case, within a few hundred years the ceremony in which the new tree was carried into the city became increasingly important: in 1711, the event was attended by Peter the Great, Emperor of Russia. Nowadays, Estonia holds a contest to decide which tree will be chosen, and the winning spruce is, as you can see, decorated in an astonishing array of lights.
Tallinn in the Snow
Of course, the tree, albeit impressive, isn't the only reason to visit Tallinn in winter time. And there more to it than the snow, which somehow makes the medieval cobblestones and Gothic buildings of the old town seem even more quaint. We also love the chance to sip mulled wine, warm up in the city's old beer halls, or, if spirits are more to your taste, try to country's excellent vodka in the kind of conditions for which it is intended. Not that Tallinn in winter is all about alcohol: there are many delicious local snacks available from the Christmas market. Perhaps best of all, most tourists will avoid the Baltic States in the cold weather, leaving the city's marvellous attractions even less crowded than usual!

Liked this story? Are you getting that itch to travel and go on an adventure? Then join us on the next
Baltic Run
. Find a team of like-minded crazies and we'll see you at the starting line. If you want to join us in the virtual world then drop us a like on
Facebook
or follow us on
Twitter
and
Instagram
to keep up with our latest antics
.