What to drink in the Baltics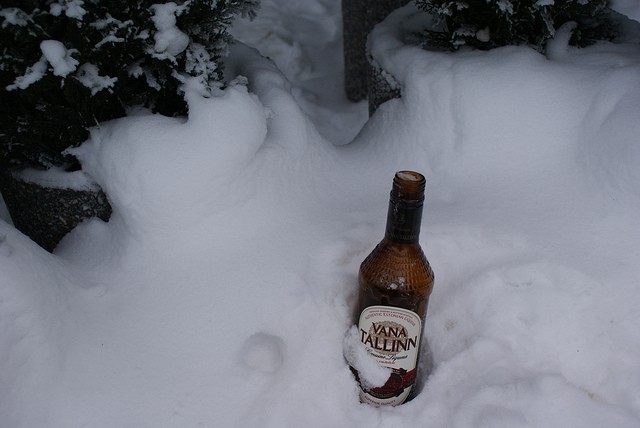 What to drink in the Baltics? It is a fact that the Baltic Countries are a cold place- but that doesn't mean that you cannot do anything about it. If you want to get warmer and feel yourself as a real Northerner, make sure to try all of the drinks in this list of during your trip through the Baltics. Just try not to drink them all at once…
Keeping it cold. Photo by Marcus Grbac.
Poland
Kompot: Compotes are drinks prepared of fruits, usually fresh, but sometimes dried. Sugar is added and sometimes cloves are used as a spice. In Poland the most popular fruits are apples, currants, cherries, strawberries, and pears. Compote is prepared in the summer and stored for the fall and the winter time. It's served cold, together with the fruits.
Wodka: Of course the Polish vodka had to make this list. The most well-known brands of Polish vodka are Balsam Pomorski (38%, colorless vodka), Belvedere, and Chopin. If you want to try something a bit more original, you can ask for Soplica- it is cheaper than the ones listed above, and it comes in many different flavors, including hazelnut and cherry.
Beer: The most popular Polish brands of beer are Zywiec, Tyskie, Zubr, Lech,and Tatra. Obviously many companies produce their beers in popular varieties, like Zywiec Porter, Warka Strong, or the types of Okocim. In Poland there is a large number of small breweries, with little market penetration but producing delicious beers: definitely worth trying!
Miod Pitny: Miod Pitny, or Mead, is one of traditional Polish alcohols. The Polish name miod pitny means 'drinkable honey', being produced by fermentation of honey. Meads are sometimes made with various juices to improve their taste, as well as with herbs and spices. 
Nalewki: Polish liqueurs or 'nalewki', are alcoholic extracts from fruits, spices, flowers or herbs. Nalewki usually contain 40-45 per cent of alcohol.
Latvia
Skabputra: A sour porridge beverage made from barley and milk. 
Maizes Kvass: Kvass is a traditional Slavic and Baltic fermented beverage commonly made from black or regular rye bread. The color of the bread used contributes to the color of the resulting drink. Generally, the alcohol content is low (0.5–1.0%). It may be flavored with fruits such as strawberries and raisins, or with herbs such as mint.
Beer: It can be served in various forms, and it is not weird to find beers made out of honey. Some of the most famous breweries are Aldaris Brewery, Bauskas Alus, Casu Alus and Latvijas Balzsam.
Riga Black Balsam: We already dedicated a whole article to this drink, which is a traditional Latvian herbal liqueur made with many different natural ingredients mixed in pure vodka that you can only love or hate after trying.
Vodka: As in the other Baltic countries, Vodka has a great reputation also in Latvia. Some of its most famous brands are White Diamond and Stolichnaya, which is widely sold as Russian Vodka, but is actually Latvian.
Lithuania
Gira: Gira is a non-alcoholic drink made from rye bread.  In old times Lithuanians made a large variety of Gira drinks. Gira was made not only from bread, as is the most common now, but also from various berries, fruits, flowers, buds, saps, juices, decoctions, grains, malts, cakes and even honey cake.
Kisielius: Another non-alcoholic Lithuanian drink usually made from cranberries (but sometimes also raspberries or gooseberries), starch and sugar.
Beer: Lithuania is known as a beer-loving country. At present there are 84 breweries, large and small, operating in Lithuania, producing beer that may be light or dark, weak or strong (by law the strongest beer allowed is 9.5% alcohol by volume). Each brewery produces several varieties. The region of Biržai has long been known for its dark, strong beer, while light barley beer is produced in every region.
Starka: Lithuanian variety of Whisky. In the middle ages, Lithuanian merchants who were going on a long journey would pour whisky into oak casks, and during the long trip by land or waterways the whisky would acquire the amber color that is characteristic of Starka. The name of this whisky comes from an old Lithuanian word, 'starkus', which meant 'stork'. This 'stork' whisky was typically brought out to celebrate the birth of a first son.
Trejos Devynerios: This liquor is made out of 26 herbs. Its name means "Three Nines", and it was used as a medicine in the old times.
Krupnikas: Another traditional Lithuanian liquor, made from grain spirit, honey and herbs. It is the only Lithuanian liqueur that one consumes hot.
Estonia
Beer: If you feel like trying some Estonian beer, two main breweries are dominating the country. In the north, Saku is the biggest Estonian brewer, whereas A. Le Coq has been the choice of southern Estonians. You can find many kinds of Saku, from the Originaal, to the Gold (Premiun Beer) or the dark one (Saku Tume). If you are looking for something more unique, in Tallin you will find plenty of breweries with their own home made brands of beer.
Vana Tallinn: You haven't been in Estonia if you haven't tried this traditional liqueur. It is available in 40%, 45% and 50% variants, but if that scares you perhaps you may like to try the cream variant.
Kiiu Torn: Similar to Baileys, it comes from a small town close to Tallinn, Kiiu, which gives its name to the liqueur.
Vodka: Vodka is used both as a drink and a medicine by Estonians. There is an old tradition that says that if you have a cold you should soak your socks in vodka and then put them on your feet. The most popular brands are Viru Valge, Saremaa Vodka, and The Tall Blonde, also known as the Queen of Vodkas.
Milli Malikas: Just for the bravest, impossible to describe accurately. All we can say is, if you are brave enough, go to Valli Baar in the Old Town of Tallinn and ask for one Milli Malikas. You have been warned!
Liked this story? Are you getting that itch to travel and go on an adventure? Then join us on the next
Baltic Run
. Find a team of like-minded crazies and we'll see you at the starting line. If you want to join us in the virtual world then drop us a like on
Facebook
or follow us on
Twitter
to keep up with our latest antics.