Lithuania's Spectacular Trakai Island Castle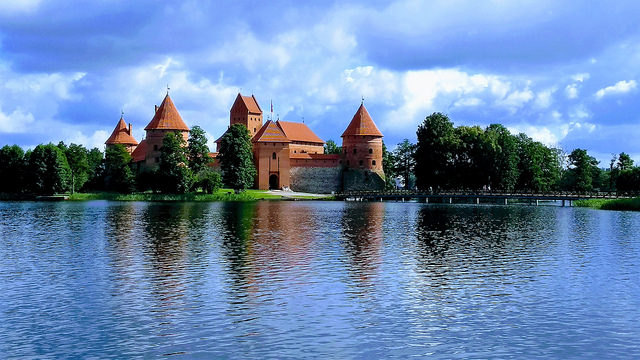 Trakai Island Castle is on of Lithuania's most impressive sights.
Photo via Flickr
We pass many incredible sights on the Baltic Run minimal assistance adventure rally, from picturesque Krakow to the pristine nature of Lithuania, Latvia, and Estonia. However, there aren't many places in the Baltic States that compare to Takai Island Castle, an impressive historic relic found on one of the many islands dotted around south-eastern Lithuania's Lake Galvė.
Trakai Island Castle
If you have time for just one day sightseeing in Lithuania, visiting Trakai Island Castle would be a good choice, perhaps even moreso than the nearby capital Vilnius. Cross the moat to the castle, more than six hundred years old, and completely restored in Gothic style, with its many impressive rooms and galleries. Admire the view over Lake Galvė and visit the Trakai History museum, housed within the castle itself.
The History of Trakai Island Castle
The history of Trakai Island Castle dates back to mid 14th century, when work was begun by the ruler of Lithuania, Kęstutis, but the initial structure was damaged by Teutonic Knights in 1377. The construction was completed in the early 15th century by his son, Vytautas the Great, and redecorated in Renaissance style during the rule of Sigismund II Augustus. Damaged during 17th Century clashes with the Duchy of Moscovy, the castle was on the way to ruin before extensive renovations in the 19th and 20th centuries.
Lake Galvė
The lake in which Trakai Island Castle is situated, Lake Galvė, is a remarkable sight in itself. Many of its 21 islands evoke folk stories of historic romance or suspicious haunting, and one island possesses the ruins of an old Orthodox Church. In winter the lake often freezes and is popular for ice skating, while in summer boating is a popular pastime. If you visit on the Baltic Run, Lake Galvė will more than likely be covered in a sparkling layer of fresh snow.

Liked this story? Are you getting that itch to travel and go on an adventure? Then join us on the next
Baltic Run
. Find a team of like-minded crazies and we'll see you at the starting line. If you want to join us in the virtual world then drop us a like on
Facebook
or follow us on
Twitter
and
Instagram
to keep up with our latest antics
.