On the Edge of Estonia: Narva Castle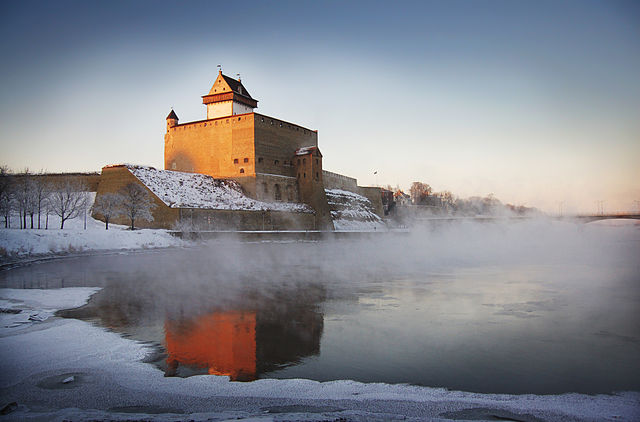 One of Estonia's prettiest castles has a remarkable location.
Photo via Creative Commons
The endpoint of the Baltic Run minimal assistance adventure challenge is Tallinn, the capital of Estonia. We don't continue on to Russia, although some of our participants do. If we did, we'd reach Narva, right on the edge of Estonia; and once there, we'd see a remarkable castle.
Narva Castle
Narva Castle (known officially as Hermann Castle) is located in the extreme North-East of Estonia, on the banks of the Narva River. It's actually closer to St Petersburg than Tallinn, but today it is very much Estonian. And while it was a defensive fortress for many centuries, nowadays it is both a tourist attraction, a venue for many exhibitions, and a popular location for mass gatherings.
The History of Narva Castle
The origins of Narva Castle date back to the middle of the 13th century, when it was founded by the Kingdom of Denmark, which had conquered Northern Estonia; the first stone castle arose at the turn of the 14th Century. Only decades later the castle, along with the region, passed into the hands of the "Livonian Order", who converted it into a convent. In the late 16th Century the castle was occupied by Russian then Swedish troops. Unfortunately, the castle suffered greatly during the turmoil of the 20th Century, so much of what is seen today is the result of recent renovations.
The Border With Russia
The story of Narva Castle cannot be told without acknowledging Ivangorod Castle, seen on the right of this photo. This Russian fortress has been around since the end of the 15th Century, so for most of its existence the Narva Castle has always been in its shadow, just as Estonia is dwarfed by Russia. The explicit intent of this fortress was to reassert Russian dominance of the Baltic region, and despite brief periods of Swedish and German occupation, it has remained a a symbol of Russian power. Today, though, Ivangorod is a museum, just like its rival across the river.

Liked this story? Are you getting that itch to travel and go on an adventure? Then join us on the next
Baltic Run
. Find a team of like-minded crazies and we'll see you at the starting line. If you want to join us in the virtual world then drop us a like on
Facebook
or follow us on
Twitter
and
Instagram
to keep up with our latest antics
.